Purpose and Vision
THE PRESBYTERIAN EGG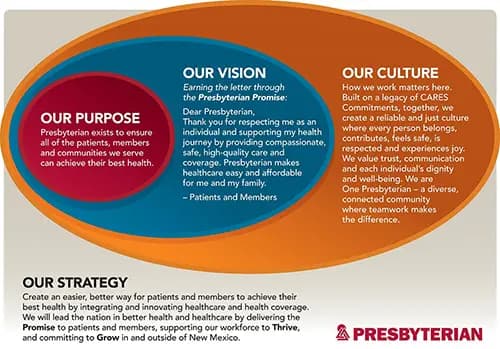 Since 1995, the Egg has helped guide our decisions and connected us to our purpose at Presbyterian. This updated Egg will continue to guide us through the challenges and opportunities of a new era, with fresh thinking and a focus on what is most important – helping our patients and members achieve their best health.
OUR PURPOSE
Presbyterian exists to ensure all of the patients, members and communities we serve can achieve their best health.
Our patients and members are the reason we come to work every day. Our updated purpose statement expresses our commitment to health equity, respect for individual health journeys, and an understanding that patients and members play an active role in their health.
OUR VISION
Earning the letter through the Presbyterian Promise: Dear Presbyterian, Thank you for respecting me as an individual and supporting my health journey by providing compassionate, safe, high-quality care and coverage. Presbyterian makes healthcare easy and affordable for me and my family. – Patients and Members
Our vision is a letter written from the viewpoint of a patient or member we serve and reflects what they expect from Presbyterian.
OUR CULTURE
How we work matters here. Built on a legacy of CARES Commitments, together, we create a reliable and just culture where every person belongs, contributes, feels safe, is respected and experiences joy. We value trust, communication and each individual's dignity and well-being. We are One Presbyterian – a diverse, connected community where teamwork makes the difference.
The Egg includes a culture statement that reinforces our strong belief that our people are at the heart of how we deliver on our purpose. This means creating an environment where all feel they belong and can contribute in meaningful ways.
OUR STRATEGY
Create an easier, better way for members to achieve their best health by integrating and innovating healthcare and health coverage. We will lead the nation in better health and healthcare by delivering the Promise to patients and members, supporting our workforce to Thrive, and committing to Grow in and outside of New Mexico.
Our strategy is how we sustain this organization in the short-term and for generations to come. Integration is at the core of our strategy and enables us to provide the right care in the right setting at the right time.
CODE OF CONDUCT
In addition to the Presbyterian Egg, our Code of Conduct describes the behavior expected of our workforce in providing services to our patients and members. Leaders, employees, independent providers, contractors, volunteers, students, vendors and board members are accountable for these core responsibilities.