Patient Centered Medical Home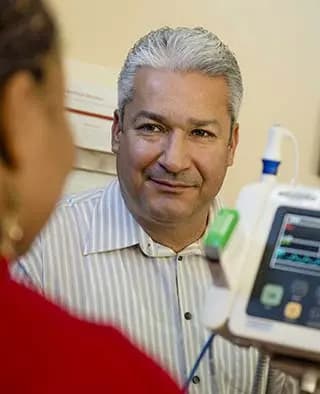 Presbyterian Medical Group provides an innovative approach to your primary care based on the Patient Centered Medical Home model.
A Patient Centered Medical Home (PCMH) is a care team service, available in the Albuquerque and Santa Fe metro areas, led by your primary care provider, who is responsible for coordinating for all your healthcare needs. Your care team is focused on providing you the help you need for whole-body care, while understanding and respecting your individual needs, culture, values and preferences. This allows you to be a full partner in making decisions about your health and treatment plans. It also provides a number of ways for you to access care depending on your healthcare needs, including having visits in-person, by phone or via video. We also keep you updated on your health information and encourage use of MyChart for questions about your health and care.
Your primary care provider may be a physician (MD or DO), physician assistant (PA-C), or certified nurse practitioner (CNP) within our primary care specialty. Your care team may also include:
Advanced practice clinicians, nurse practitioners and physician assistants who work closely with your primary care provider to address your healthcare needs.

Behavioral health clinicians, who focus on the mental, emotional, and behavioral parts of your health.

Case managers, who are available if you have more complex medical problems and can assist in coordinating all your healthcare needs.

Care managers, or registered nurses (RNs) who provide support for preventive health and disease management.

Nurse and medical assistants, who support your primary care provider during your visits.

Pharmacist clinicians, who provide care for chronic diseases such as diabetes, high cholesterol, high blood pressure, and congestive heart failure by helping manage your medications.
CLINICS & FACILITIES
Family Medicine in Albuquerque on Atrisco Dr Family Medicine in Albuquerque at Kaseman Hospital Family Medicine in Albuquerque on Las Estancias Dr Family Medicine in Albuquerque on Montgomery Blvd Family Medicine in Albuquerque on Pan American Fwy Family Medicine in Albuquerque on Paradise Blvd Family Medicine in Albuquerque on San Mateo Blvd Family Medicine in Albuquerque on Wyoming Blvd Family Medicine in Belen on S Christopher Rd Family Medicine in Los Lunas on Emilio Lopez Rd Family Medicine in Rio Rancho on High Resort Blvd Family Medicine in Rio Rancho on Hwy 528 Family Medicine in Santa Fe on St. Michael's Dr Internal Medicine in Albuquerque at Kaseman Hospital Internal Medicine in Albuquerque on Las Estancias Dr Internal Medicine in Albuquerque on Montgomery Blvd Internal Medicine in Albuquerque on San Mateo Blvd Internal Medicine in Belen on S Christopher Rd Internal Medicine in Rio Rancho on High Resort Blvd Internal Medicine in Rio Rancho on Hwy 528 Internal Medicine in Santa Fe on St. Michael's Dr