Menopause Services
Menopause Services is a subspecialty of women's care that focuses on the care and treatment of symptoms due to changes in a woman's reproductive hormones. Menopause is usually a regular part of aging as a woman reaches her 50s, when her body produces lower levels of estrogen. However, menopause that is caused by surgery or treatment of other diseases or illnesses including cancer (often called induced menopause) can occur at an earlier age.
Care by a menopause specialist usually starts during perimenopause, when a woman begins to notice changes in her menstrual cycles, and continues through the rest of her life. Our team can help you with physical and emotional issues that come up during this unique period in your life.
Our menopause specialists are certified by the North American Menopause Society (NAMS).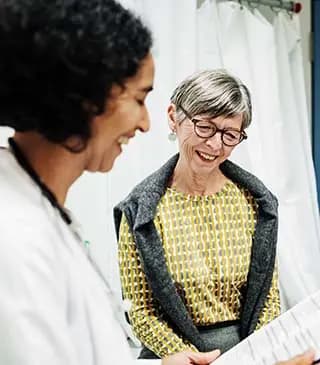 Conditions Treated
Hot flashes

Recent mood changes, including feeling irritable, anxious or depressed

Night sweats

Trouble sleeping

Changes in sexual pleasure and desire

Vaginal dryness

Bladder control issues (incontinence)

Recent weight gain

Evaluation of post-menopausal bleeding

Pelvic organ prolapse
Testing & Treatment Options
Hormone replacement therapy (HRT)

Topical hormone therapy

Non-hormone treatment

Lifestyle change recommendations

Hysteroscopy

Perimenopausal contraception

Vulvar colposcopy

Pessary device fittings to support the bladder, vagina, uterus and/or rectum

Care for non-surgical prolapse treatment

Weight maintenance or loss during menopause

Women's healthcare needs during and beyond menopause, including heart disease, bone loss or osteoporosis, and breast cancer screenings
Our Providers
Our team includes a board-certified OB/GYN physician and certified nurse practitioners who have specialized training and certification in menopause care. Our providers work together as a team to offer care during this unique stage of your life, with a commitment to your personal healthcare choices and well-being.
PMG Provider Directory
CLINICS & FACILITIES
Menopause Services in Albuquerque on Pan American Fwy
Related Services / Programs
Obstetrics and Gynecology (OB/GYN) Urogynecology Breast Surgical Oncology Gynecologic Oncology Urology