Obstetrics & Gynecology (OB/GYN)
Presbyterian Women's Care covers a wide range of women's reproductive health needs from obstetrics to gynecological care. We provide well-woman visits, OB/GYN care and support, including family planning to pregnancy and beyond. Our team of dedicated physicians and certified nurse midwives can treat any of your OB/GYN needs. We also offer classes and support groups on a wide variety of women's healthcare topics. Our team has earned the prestigious Baby-Friendly® Hospital designation from Baby-Friendly USA, Inc.
Each of our OB/GYN clinic locations offer a variety of obstetric and gynecologic services to care for your individual healthcare needs. Our providers provide care for obstetrical needs, including regular and high-risk pregnancies, as well as complex gynecological conditions, menopause and other mid-life needs, and urogynecology, which can treat diagnoses that involve both the reproductive and urologic system.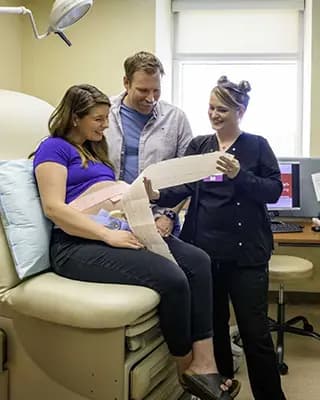 Obstetrics (OB)
Obstetricians and certified nurse midwives are specialty healthcare providers who specialize in pregnancy and childbirth. These providers care for you and your unborn child during pregnancy. They have undergone specialized training to help you deliver your baby, including both low and high-risk births. They are also able to treat complications of pregnancy such as ectopic pregnancies, pre-eclampsia, gestational diabetes or maternal high blood pressure.
Conditions Treated
A few common conditions treated include:
Coordination of care before, during and after pregnancy for the mother

Complex or high-risk pregnancies (perinatology)

Labor and delivery during your pregnancy

Morning sickness

Screening and monitoring of your health and your baby's
Testing & Treatment Options
A few common tests and treatments include:
Birth control planning

Pregnancy risk screenings

Prenatal care
Gynecology (GYN)
Gynecology is a specialty that focuses on women's health and reproductive organs at any age. Gynecologists can see you for an annual well-woman exam, and can also diagnose and treat pelvic pain, abnormal bleeding, or urinary/bladder problems. They can perform different types of tests such as screening for sexually transmitted diseases (STDs), pregnancy tests or menopause.
Conditions Treated
A few common conditions treated include:
Annual well-woman exams, including Pap and pelvic exams

Cancers of the reproductive tract, including ovaries, uterus, cervix, and breast

Endometriosis

Family planning, including contraception

Female hormone disorders

Fertility issues

Fibroids

Menopause

Ovarian cysts

Pelvic inflammatory disease

Polycystic ovary disease

Sexually transmitted infections
Testing & Treatment Options
A few common tests and treatments include:
Breast exams

Family planning and contraception

Infertility testing

Pelvic exams

Pap tests
Our Providers
Our team includes OB/GYN physicians, certified nurse midwives, birth educators and consultants, who are dedicated to improving the health of women of all ages, from your first well-woman visit to pregnancy and beyond. Our healthcare providers work together as a team to provide care at every stage of your life, with a commitment to your personal healthcare choices and well-being.
PMG Provider Directory
CLINICS & FACILITIES
Obstetrics and Gynecology in Albuquerque on Las Estancias Dr Obstetrics and Gynecology in Albuquerque on Pan American Fwy Obstetrics and Gynecology in Albuquerque at Presbyterian Hospital Obstetrics and Gynecology in Rio Rancho at Rust Medical Center Obstetrics and Gynecology at Presbyterian Espanola Hospital Obstetrics and Gynecology in Los Lunas on Emilio Lopez Rd Obstetrics and Gynecology in Ruidoso at Lincoln County Medical Center Obstetrics and Gynecology at Socorro General Hospital Obstetrics and Gynecology at Santa Fe Medical Center Obstetrics and Gynecology in Clovis at Plains Regional Medical Center
Related Services / Programs
Urogynecology Breastfeeding Support Services Breast Surgical Oncology Gynecologic Oncology Menopause Services