Pediatric Ear, Nose and Throat
Pediatric ear, nose and throat (ENT) is a specialty that focuses on the diagnosis and medical treatment of the ear, nose, throat, and related structures of the head and neck in infants, children, and adolescents. This can include tubes and tonsils, ear surgery, deviated septum, sinus disorders, swallowing difficulties, voice disorders, snoring, and more.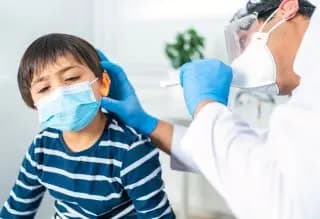 Conditions Treated
A few common conditions treated include:
Deviated septum

Feeding, swallowing or voice issues

Recurring ear infections

Recurring throat infections (tonsillitis)

Snoring

Upper airway compromise management

Hearing impairment

Complex airway issues

Obstructive sleep apnea
Testing & Treatment Options
A few common tests and treatments include:
Deviated septum repair

Ear tubes

Tonsillectomy

​Removal of ear and nasal foreign bodies
Our Providers
Our pediatric ENT (ear, nose and throat) specialists can provide a team-based care plan for your child's ENT diagnoses. Our specialists work closely with your child's primary care provider and our other pediatric healthcare providers to coordinate care in both inpatient and outpatient settings. This team can also provide extra support for your child's health needs, including behavioral health services.
CLINICS & FACILITIES
Pediatric Ear, Nose and Throat (ENT) in Albuquerque at Presbyterian Hospital
Related Services / Programs
Pediatric Inpatient Services Pediatrics Primary Care Sleep Medicine